Get to know the AP3108L PWM Controller (ART338aE)
Details

Published: Sunday, 15 October 2017 00:00
Written by Newton C. Braga
Diodes Incorporated recently introduced a high performance PWM controller in Green mode for current-mode control applications. This component is suitable for applications in switched power supplies, converters, adapters and chargers. See in this article some important features of this component.
   The AP3108L from Diodes Incorporated was released in early 2017 and can be purchased from Mouser Electronics via the link http://www.mouser.com/ProductDetail/Diodes-Incorporated/AP3108LGSTR-G1/?qs=HXFqYaX1Q2xd%2fG%252bfMbeqjQ%3d%3d 
   The full datasheet can be accessed at: http://www.mouser.com/ds/2/115/AP3108L-1129335.pdf.
   The AP3108L is a current-mode controller and is suitable for off-line source applications that require ultra-low power consumption in the standby condition in addition to protection features.
   The maximum switching frequency of the AP3108L is 65 kHz and can be modulated using Green mode. As a result, the frequency may drop by being cut at 22 kHz to avoid audible noise.
   In figure 1 we have the package of this component.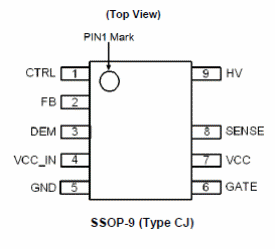 Figure 1 - package
  Internally the device has an LDO (regulator with low voltage drop) in order to be able to regulate a wide range of continuous voltages.
  In figure 2 we have a typical circuit of application.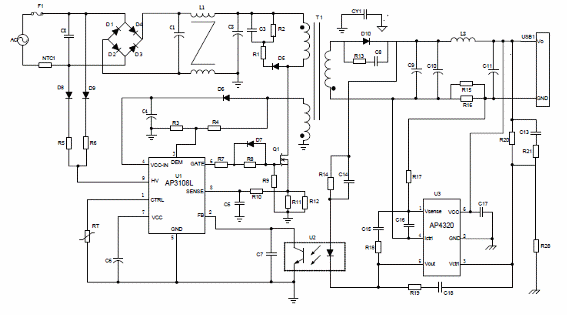 Figure 2 - Application circuit
   Complete information on the operation of this circuit and the AP3108L can be obtained in detail in the datasheet accessed at the indicated link.